Washington DC Lodge #15 (now Washington-Rockport Lodge #15. Click here for their website which has directions and particulars about this unique lodge that at one time had 2700 members. Also, click here for a brief history of #15 ) Updated 04/09/2009
Click on the picture to enlarge it. This is a postcard view from 1916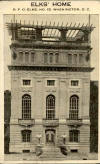 However and thanks to some good birddogging of the Library of Congress by Tom Ploski of Washington Rockville Lodge, you can see 12 excellent photos of this grand old lodge. http://memory.loc.gov/cgi-bin/ampage?collId=hhphoto&action=browse&fileName=dc/dc0300/dc0376/photos/browse.db&recNum=0&itemLink=D?hh:1:./temp/~ammem_E4hV::&title2=Washington+Lodge+Number+15,+The+Benevolent+and+Protective+Order+of+Elks,+919+H+Street+Northwest,+Washington,+District+of+Columbia,+DC&displayType=1
Tom also compiled tidbits of the minutes from the charter year of 1882. Click here for this fascinating bit of history.
Newsletter from 1945
Below is a the January 1945 newsletter that I obtained in June 2005. It's quite interesting. Page 6 & 7 have poignant letters from Elks in the war. That's a must read. Then there is a note about the charitable expenses. Note that a substantial portion is dedicated to Elks in the form of relief. This to me is the major difference between Elks of old and today. It would seem to me that greater emphasis should be taken on members of your lodge who may be struggling than on whatever charitable function of the day is in vogue. Just my thoughts but I think I can back it with all the old stuff I've acquired. That's a key difference that might explain why the Order has contracted so much in the past 30 years.
Return to historic pictures
Return Salisbury Home